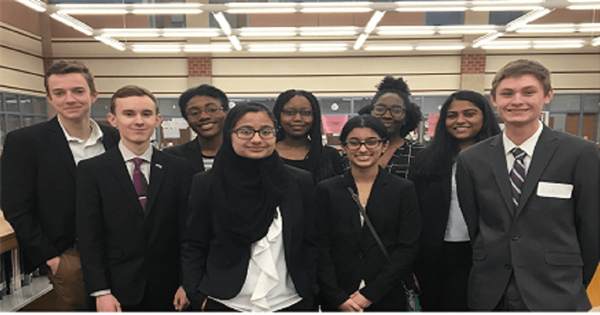 What to Wear in High School MUN Conferences
25-May-2022
Most high school MUN conferences follow the traditional room of western business attire. Many people dress to invest in business attire for the workplace worldwide, which usually comprises a suit or a dress. A suit is a western 3-piece outfit that consists of a shirt, a matching blazer, and a tie. You can wear western business attire as long as it looks professional. You can also mix and match different colors and textures according to your taste.
Blazer or Dress
When attending high school and UN conferences, there are certain rules that you have to rely on. If you are selecting a suit, ensure that the blazer is comfortable enough so that you can move your arms around freely when talking. Your blazer should ideally reach your wrist bones when you are standing straight.
If you are selecting a sleeveless top or dress, ensure that you carry a blazer or cardigan in case your conference has strict protocols. If you are selecting an address or a skirt, ensure that the length of the skirt is appropriate.
Fitting Clothes
When selecting clothes, make sure that your clothes fit your body. There is no reason to buy designer quotes to impress the high school mu and conference committee. How you wear and style clothes reveal a lot about you. It is better to select the quotes that fit just right and bring out your natural body shape.
When selecting western business attire, you can still play with different textures, color combinations, and styles. Ensure that you wear the clothes before you go out to the conference to see if they fit you rightly or not.
CAGS FAIRGAZE MUN Upcoming event
Select the Right Color
At a high school MUN conference, there are going to be different events for the committee. You should anticipate the events and decide your closing based on those events. Usually, in a traditional 4-day conference, delegates are just getting to know one another on the first day. New friendships and blocs form on this day. If you want to evoke a feeling of trust and safety with your fellow colleagues, you can opt for light colors to make the right impression.
You can also opt for basics, such as a black dress paired with a cardigan or a jacket is a great classic outfit for any conference.
Use Accessories
One of the best parts of dressing up for any high school MUN conference is pairing your dress with accessories. Pearls are usually your safest bet, but you can also opt for simple necklaces to wear for conferences. You can also wear statement necklaces but make sure that they don't clash with your outfit.
Pearls usually exude sophistication and professionalism, while statement necklaces bring out confidence and energy. You can also decide to wear a watch so that it could be helpful to check time to ensure that you aren't late for events anywhere.
Opt for Comfort
Some people usually have the gift of the ability to wear 5-inch heels all day long. At the same time, however, some girls lack that talent. Before attending the high school MUN conference, look for a pair of table bills that you know you would go from the first committee session to the last.
If you are using a new pump for the conference, add them out a few weeks before and wear them around the house to loosen them up. If you can wear your heels or pump up the stairs without stumbling, then it means that you are ready to pull them out at a conference.
Always try to bring a backup when selecting a dress or shoes. Make sure you pack a comfortable pair of flats as well as an extra outfit in case you spill anything.
Finally, wear what suits you best and makes you comfortable. Do not let any gender roles define what you wear. Have fun at the high school MUN conferences, and bring out your best style.
---